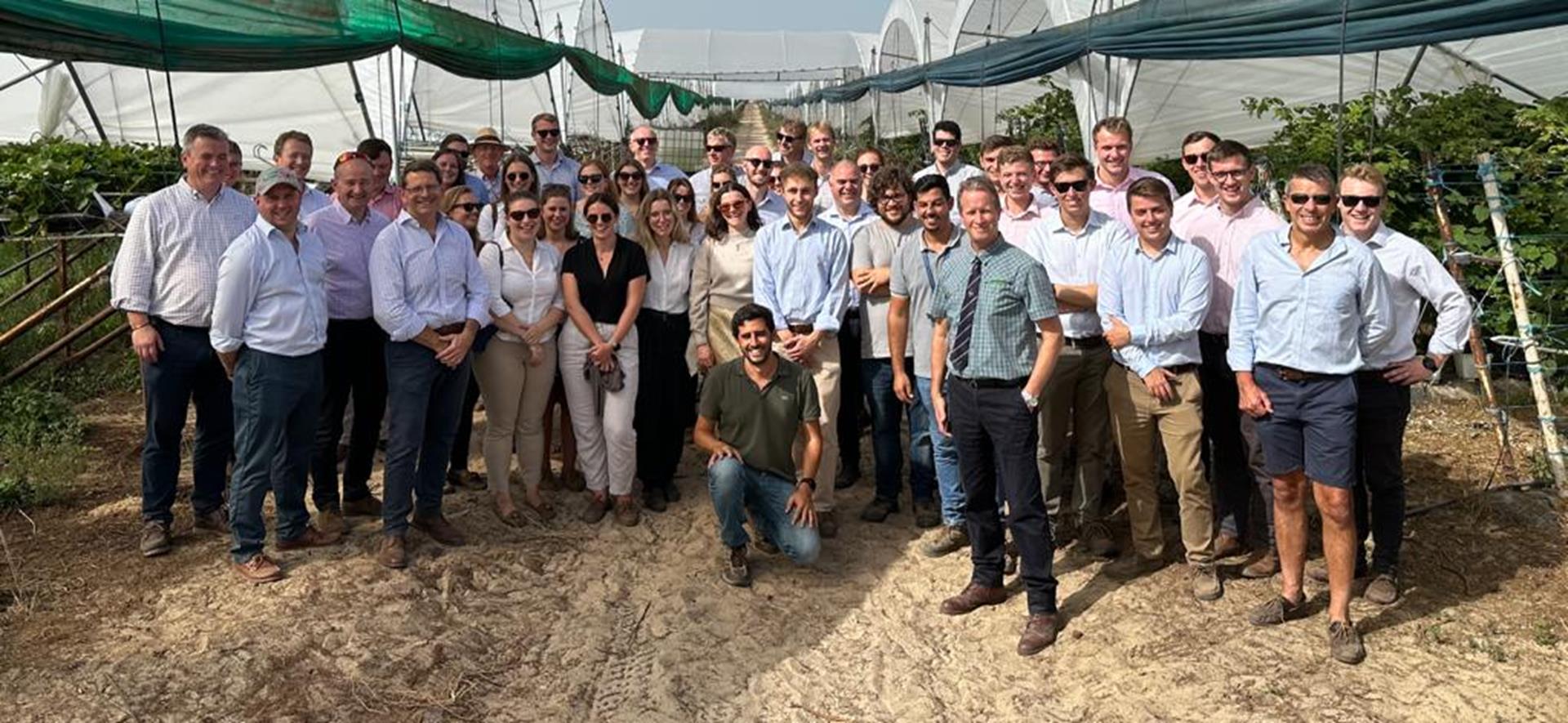 Agri-Business Consultancy Portugal Study Tour October 2022
Mon 16 Jan 2023
News
Agricultural business consultancy
In October 2022, 43 members of the Brown&Co Agricultural Business Consultancy team set off on the annual study tour to the 2022 destination of Faro, Portugal. Arriving in Portugal they were transported to Duna Parque Beach Club located halfway between Lisbon and the Algarve.
The first morning in Portugal the team travelled to The Summer Berry Company near Vila Nova de Milfontes. Visiting their newest site, Almeidans Farm which provides high quality soft fruit including raspberries, blueberries, strawberries and blackberries to the UK and European markets.
Daniel Portelo, Operations Manager provided a business overview of the company including a question-and-answer session. Daniel discussed challenges and opportunities that are faced when growing these commodities in Portuguese conditions, factors such as water availability for their expansive irrigation needs (transported from a dam 70km's away).
The tour of the packhouse showed how the raspberries are sorted and graded regarding the ripeness, colour, and the quality of the fruit. From there the fruit is transferred into different appropriately climatised rooms where they are carefully stored before being distributed to consumers.
The final part of the visit was a tour of the 130-hectare site, filled with polytunnel's which provides employment for over 1000 workers.
Fruit is grown in coir in pots to allow growth and disease prevention due to such sandy native soils providing harsh conditions. The company are also regrowing perennial species such as rock roses and lavender to aid pollination and help to replace invasive species, which have somewhat taken a hold of the local area. The scale of the operation was impressive and provided clarity as to why they are a market leader within the soft fruit industry.
The final day of the tour saw a visit to Solana, previously known as Hubel Agricola, again a very successful soft fruit business. Solana, conversely, used indoor climate controlled large-scale greenhouses to produce their raspberries, strawberries, and blackberries. The use of automated sprinkler technology provided Solana with a controlled environment to produce high quality soft fruit, reducing costs of labour and optimising the plants water and nutrient intake. It was interesting to see the contrast in both large-scale operations and how they have adapted to supply and demand in their own ways.
The study tour was a great success and enjoyed by all who went.  Feedback from the team included they enjoyed the opportunity to meet Agricultural Business Consultant colleagues from all Brown&Co offices across the UK, as well as learning about the current challenges and opportunities faced in Portuguese horticulture today.
Check the current vacancies in the Agricultural Business Consultancy team
Keep updated
Keep up-to-date with our latest news and updates. Sign up below and we'll add you to our mailing list.