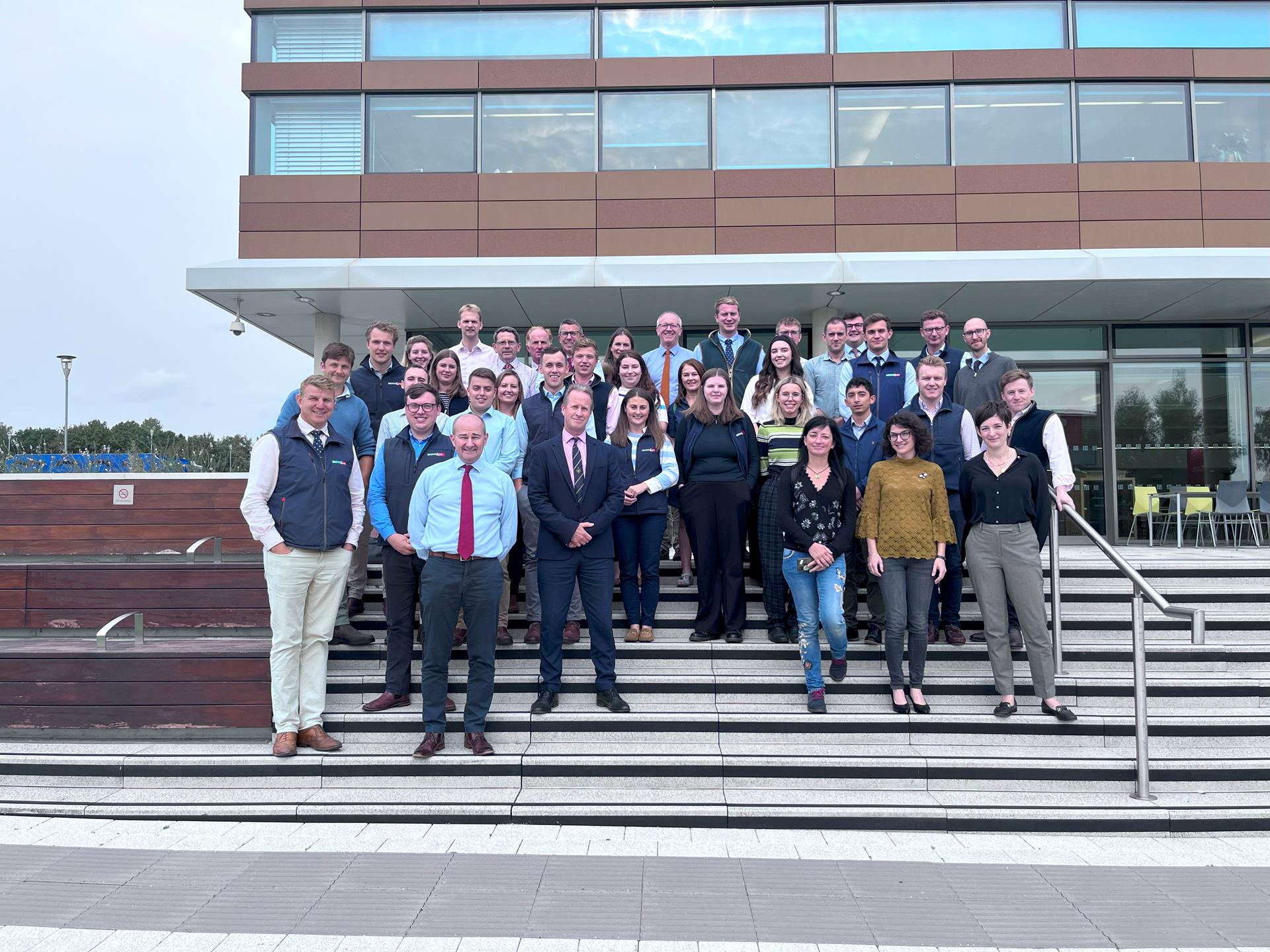 Agricultural Business Consultancy Study Tour 2023 – University of East Anglia
Wed 04 Oct 2023
News
The Brown&Co Agricultural-Business Consultancy department recently went on their annual training tour together at the Norwich Research Park, part of the University of East Anglia.
The training day consisted of a variety of speakers covering a range of topics such as the economics of carbon, gene editing, nitrogen management, biofortification and Agri-robotics to name a few. All of these topics are at the forefront of the fourth agricultural revolution, using research, technology, and innovation to drive forward yield enhancements, pest and disease control. Keeping up to date with the latest developments in the agricultural industry is important to our agri-business consultants as it provides clients with proactive and up-to-date advice which can be incorporated into strategic business management advice.
The tour concluded with talks on using the Knowledge Transfer Partnerships (KTP); part of Innovate UK, to connect businesses that have an innovation idea that could be eligible for grant funding, with various research associates and organisations to drive forward research in a collaborative partnership and connect talented graduates to a specific research project.
A special thanks to the following speakers and organisers who gave up their time to coordinate an incredibly thought-provoking and insightful day for our Agri-business consultants:
Dr Jonathan Clarke, Head of Business Development, John Innes Centre
Dr Kirsty Culley, Science Collaboration Manager, Anglia Innovation Partnership
Dr Nick Goodwin, Chief Operating Officer, Anglia Innovation Partnership
Li Mao, Lecturer in Soil Science, University of East Anglia
Dr Maria Hernandez-Soriano, Postdoctoral Scientist, John Innes Centre
Prof Mark Stevens, Head of Science, British Beet Research Organisation (BBRO)
Dr Vicky Foster, Head of British Beet Research Organisation
Dr Richard Leggett, Group Leader, Earlham Institute
Dr James Gilroy, Lecturer in Ecology, University of East Anglia
Prof Tony Miller, Senior Scientist, John Innes Centre
Dr Rosaria Campilongo, Chief Executive Officer, PfBIO
Prof Cathie Martin, Group Leader, John Innes Centre
David May, Deputy Director of Lincoln Institute for Agri-Food Tech, University of Lincoln
Dr Sharon Perry, Knowledge Transfer Advisor, Innovate UK
Anna Douglas, UEA Relationship Manager, University of East Anglia
After a day of insightful lectures, the team met for a 3-course meal in Norwich city centre for a teambuilding social evening with an overnight stay to close the training tour.
Keep updated
Keep up-to-date with our latest news and updates. Sign up below and we'll add you to our mailing list.