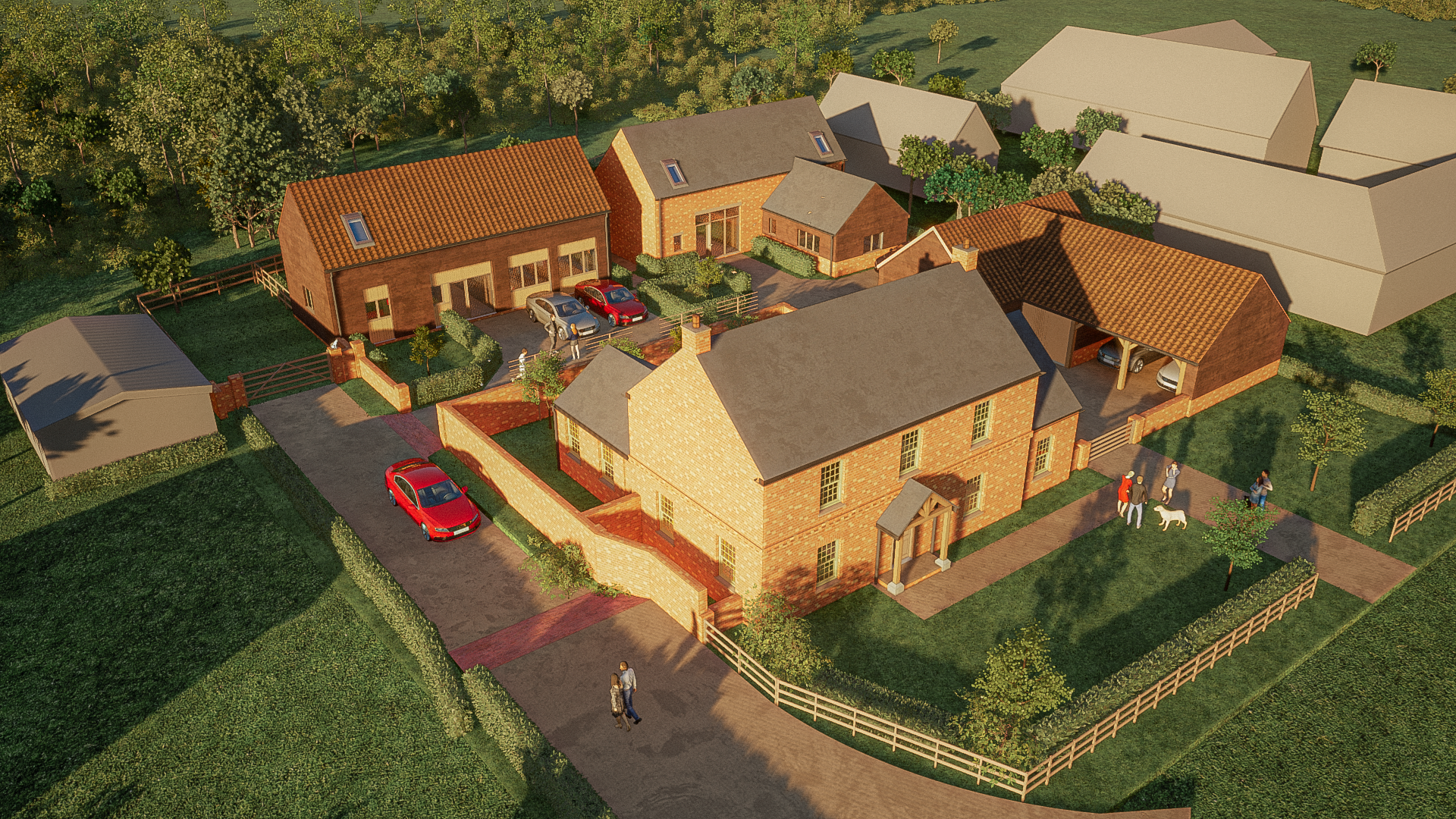 Do you need Architects and Planners for a Development Project?
Wed 19 Jul 2023
Insights
Architecture & Planning
Development
Rural land & property
Our firm has teams of RIBA accredited Architects and RTPI accredited Planners. Why do you need them for your Development or Residential projects?
The teams work cross-divisionally to aid clients looking to use land to build housing developments, business parks or for converting or enhancing existing Residential and Commercial buildings.
Our Chartered Architects based in St Neots, Norwich and Lincoln are using sophisticated software to transform their imaginative designs for clients into 3-D visualisations which is a major aid for our Planners in obtaining planning permission for schemes.
Doing so literally brings to life flat drawings and floor plans into lifestyle imagery and videos. Some of our dynamic projects can be viewed in full on our website's Portfolio page but include: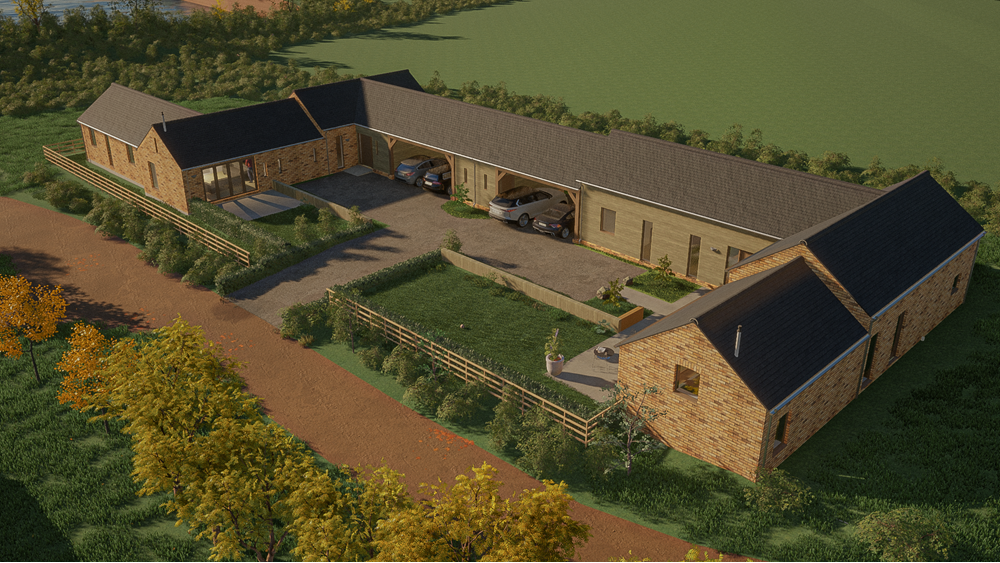 This project was to redevelop a rural development site originally boasting a grain store which was demolished as part of the construction work.
The aim was to design two houses taking advantage of the wonderful location with far reaching views over countryside to Ely Cathedral. Our Architects took inspiration from the building's original courtyard complex, formerly a dairy, in the design.
It is now complete so you can see actual photographs as well as our CGIs.
Simon Tindle, Town Planner, based in our St Neots office, said: "The Planning strategy was to secure Class Q Permitted development of the existing buildings and then utilise a 'Fall Back' application to deliver new build development on the site – the value of which would be far superior to converting the existing building."
Alex Darby, Chartered Architect, said: "This was a pleasing project to have been involved with. The initial concept of a courtyard worked well on this site. The former grainstore was a bit overbearing and out of keeping to the former Victorian dairy courtyard that sits alongside, so our proposals were well received by the neighbours and the planning authority."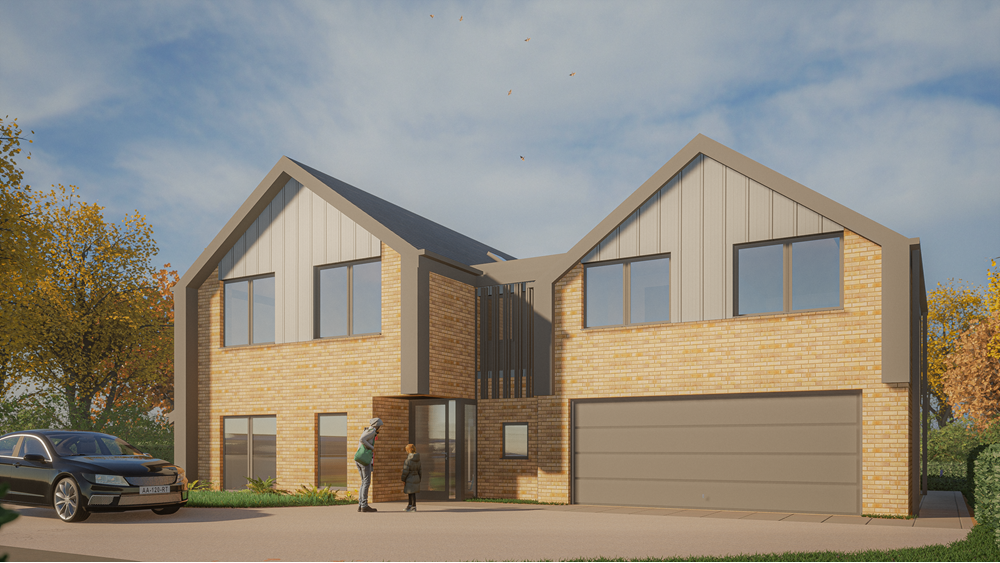 This cross-divisional Residential project really demonstrates the benefit of using our firm. Acting on behalf of the original landowner, our Planner Martin Page successfully obtained outline permission for the site. Surveyor Tim Davies sold the site to its new owner.
The purchaser was then very happy to use our Architects' expertise for the design of a bespoke self-build dwelling and Planner Lydia Pravin managed the planning application process. An application was submitted to South Cambridgeshire District Council and dealt with under Delegated Powers, resulting in a successful outcome.  
Whitehall Farm, Cambridgeshire
Acting on behalf of the landowner, our Planners managed this development site process successfully through an initial pre-application followed by a full planning application - submitted to Huntingdonshire District Council and dealt with under Delegated Powers.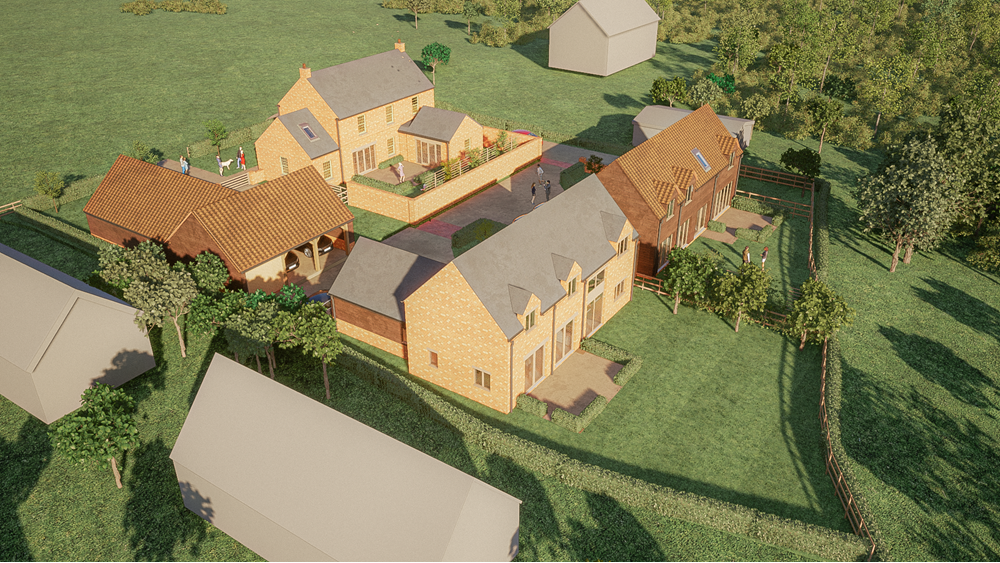 The site sat next to a series of existing barns which had been converted to Residential use some time ago. Our Architects' concept was for a farmhouse to sit towards the side and front of these, with two further units sitting behind to form a courtyard. The design layout references aspects of similar historic layouts seen in the local area.
Alex Darby said: "The designs of the surrounding houses were mixed, but characterised by gabled roofs. Our design was developed to have a similar character with the gables being a strong part of the concept proposals. 
"I designed the new dwelling in accordance to the client's brief. With a successful planning outcome, Architect William Faux and I developed a working drawings package and reviewed the construction on site.
"This was an amazing project to be involved in with a great client, who was a real pleasure to work with. Credit to David Smith and his team at Swift Building Contractors who did an amazing job in bringing the design to fruition."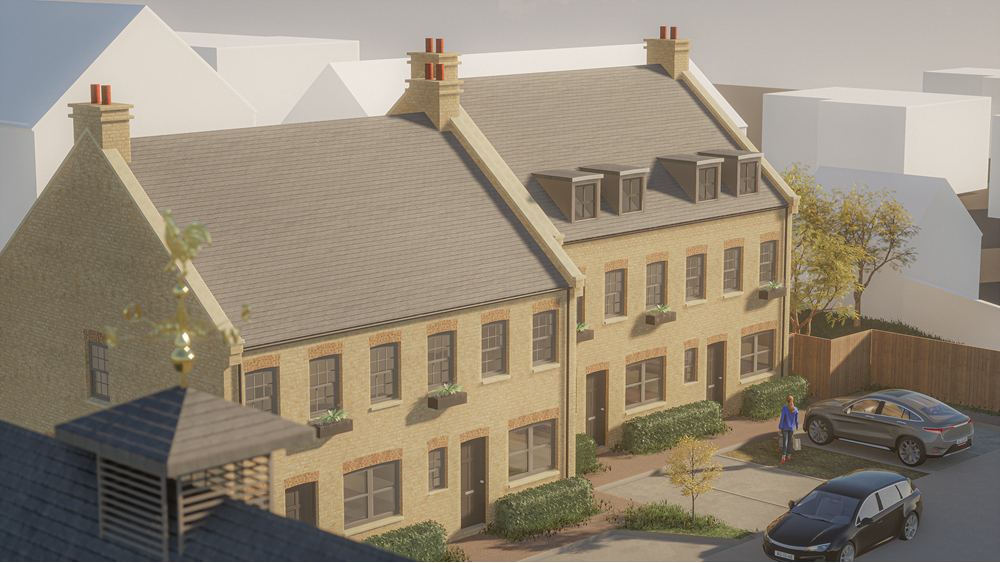 The design requirements of this site were to consist of a new set of offices, apartments and some housing. Our Architects initially designed an apartment building in the form of a large manor house and other ancillary buildings on the site presenting the idea of traditional coach houses.
The Planners undertook a feasibility exercise for the site and then the Architects developed further designs suitable for a full planning application – which was submitted to Central Bedfordshire Council and dealt with under Delegated Powers.
The construction of the buildings has been completed, with the client moving back into their office, with the mews houses and apartments being let as a part of the client's property portfolio.
This Residential scheme is under construction after the Architecture & Planning team was pleased to have completed a tendering process for the construction of two dwellings for a long-standing client.
There was significant interest in the scheme from a number of local contractors with three competitive tenders received by the deadline.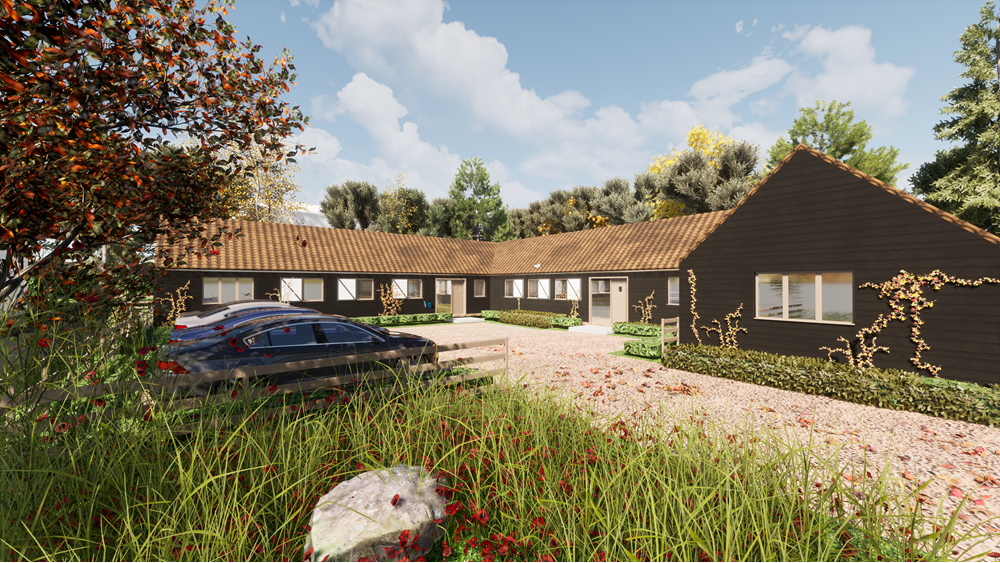 Simon Tindle said: "Acting on behalf of the landowner, we managed this process successfully through an initial feasibility study and pre-application, followed by a full planning application submitted to Central Bedfordshire Council and dealt with under Delegated Powers.
"There were several significant site constraints including its proximity to a listed building, being within a conservation area as well as being considered by the council to be in the open countryside.
"However, we were optimistic and pleased to have managed the whole process to a successful conclusion for our client."
If you have any land and/or buildings that our teams can assist with, please contact Architects Alex Darby on 01480 598871 or William Faux on 01480 598872 or Planners Simon Tindle on 01480 479078, Lydia Pravin on 01480 479079 or Martin Page on 01480 479084. We have Architects and Planners based also in our Norwich and Lincoln offices; to contact them please see here
FAQS:
Why use a RIBA accredited Architect?
Choosing a RIBA-accredited Architect gives you the assurance that their work complies with strict criteria covering insurance, health and safety and quality management systems. They have extensive experience so you'll be able to find exactly the right match for your project.
Why use an RTPI accredited Planner? 
The Royal Town Planning Institute is an international professional body for Town Planners and by choosing one who is accredited by the body means you know they are responsible for maintaining professional standards. Again, this offers you reassurance and peace of mind.
Keep updated
Keep up-to-date with our latest news and updates. Sign up below and we'll add you to our mailing list.