High Streets: Revival or survival? How our Commercial teams are helping to boost retail
Fri 09 Dec 2022
Insights
Residential
Commercial
Letting or selling high street premises may have seemed a daunting prospect for our teams post-Covid but interestingly, there's been a seismic shift in retailers' approach to opening physical stores.
Businesses are now choosing to open shops to meet the increased desire seen after the pandemic to go out and buy from actual people rather than using a chatbot while sitting at home.
Along with the popularity and ease of online buying is going out shopping as an experience - with 'retail therapy' meaning a lot more than just buying something from a store. In fact, the high street now is a destination for everything from getting coffee or lunch, a haircut or beauty treatment too. And you can't buy those things online.
So, our Commercial teams across offices have been helping boost the retail economy in towns and cities by securing forward-thinking brands to occupy empty retail units and negotiating with landlords on offering more appealing rents to fill the voids.
Our Norfolk Commercial experts have, for example, secured a number of national retailers such as Fairfax & Favor, Joules and White Stuff to lease units in Holt town centre. Our Norwich team secured clothing retailer Lucy & Yak to premises formerly occupied by an art gallery in the city centre. In Retford, Nottinghamshire, our team sealed the lease of a historic building in the town centre to the Loungers cafe bar chain.
It comes after many feared High Streets could not recover from the impact of Covid which literally closed down shops, albeit temporarily.
We may see a change next year because of the rising costs but 2022 saw the number of store closures on UK high streets dropping to the lowest level in five years. Research from the Store Openings and Closures report by PwC UK and The Local Data Company found that in the first half of 2022, there were 6,146 store closures (-30% vs 2021 YoY) from multiple retail operators (five or more outlets nationally) compared to 3,888 openings (+11% vs 2021 YoY), resulting in the lowest number of net closures (2,258) since 2017.
Henry Cockerton, based in our Holt office, a Chartered Surveyor and expert in the valuation, sale and letting of Commercial premises as well as Head of Residential for the firm, has secured Fairfax & Favor, Joules, Adnams, Neptune, Cecil Amey and White Stuff to the town's high street.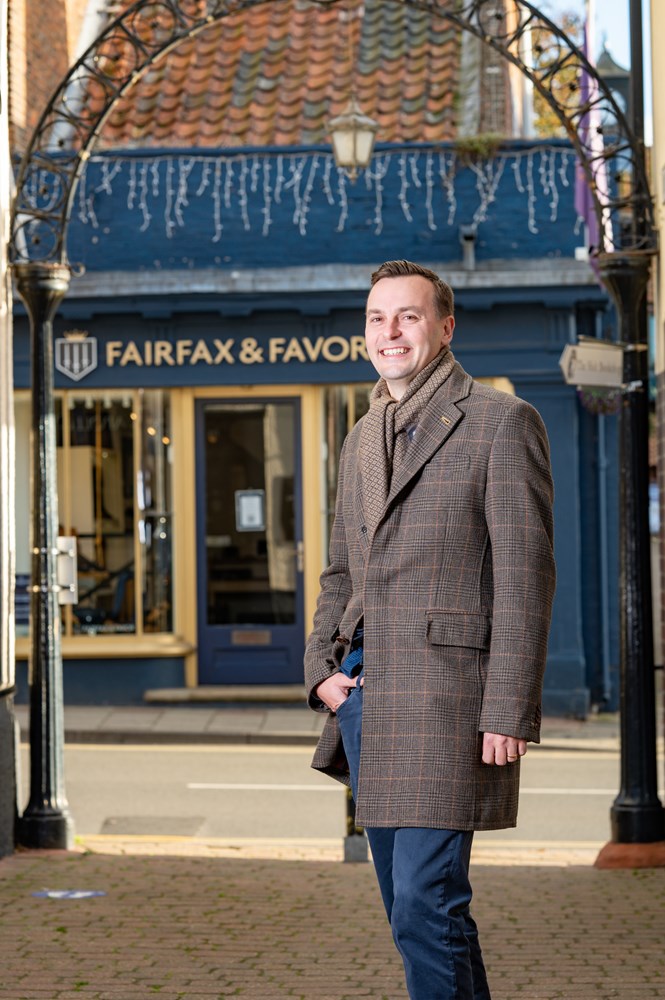 Renowned entrepreneurs Felix Favor Parker and Marcus Fairfax Fountaine chose to open their very first shop in Holt following meetings with Mr Cockerton and colleague, Surveyor Tom Cator. Holt was an ideal fit with the Fairfax & Favor brand which has gone on to open four more shops in other market towns.
Felix Favor Parker said: "We are from Norfolk, we had thought about opening a shop in Holt and the negotiation on the first one we looked at fell through. Then 23, High Street came on the market with Brown&Co, it had been an opticians and the building had so much potential.
"We love market towns like Holt – we like working towns, which have a life, we like the ambience of Holt, it's just beautiful. Towns like this are where people want to go.
"There is also the economic impact in that we feel we are bringing a lot of people into the town and we like to work with local businesses. For instance, this end of the High Street in Holt, where we are, has really evolved now with Anna, White Stuff, Two Magpies Bakery, it's changing the High Street.
"We offer a brand that combines town and country, some of our customers may live in London but like to go to market towns like Holt or perhaps they come from Norfolk or have parents or friends here."
Mr Cockerton said: "We constantly look for strong brands which could proposer in our market towns which often suit a certain type of retailer.
"Where populations are low and with some locations dependent on holiday trade, it is important that retailers offer something different in order to succeed. However, for the right type of retailer, we often find shops in our market towns such as Holt can be highly profitable.
"We were delighted to be able to bring Marcus and Felix to Holt and they have proved to be an excellent addition to the retail offering in the town. It's been great to see them go from strength to strength."
Fairfax & Favor is exactly the type of forward-thinking retailer which has prospered over the last few years and it is this type of high quality operator who will be key to the long term survival and viability of our high streets in smaller market towns in the years to come."
Opening an actual shop was initially a gamble for Fairfax & Favor, a brand which evolved from selling at equestrian-based country shows to be followed by a stratospheric growth online.
However, the gamble paid off – and the duo have never looked back. After opening in Holt, they've launched more stores, with the most recent in Marlow, Buckinghamshire, with a plan to have 10 shops operating in the next three years including expanding into Devon and Hampshire in England as well as Scotland and Wales.
Mr Favor Parker said: "We like to do exciting things with our shops; we initially put in a bar in the Holt office although we've had to take up the space as we've expanded our ranges. The Stamford office has a secret gate and Helmsley has secret doors.
"We do a lot of work on the offices, after Covid temporarily shut down Holt, it taught us a lot – we went on to develop a system of appointments which we still do, and that was a hangover from when we had to because of social distancing.
"Men's shoes are the item we sell proportionally more in store as opposed to online – probably because people want to try them on."
The pair now have their hearts set on going to the US to look at sponsoring the Kentucky Horse Trials with their involvement in major equestrian events such as Cheltenham and Burghley in the UK a large part of their business strategy.
Mr Cockerton added: "Fairfax & Favor is exactly the type of forward-thinking retailer which has prospered over the last few years and it is this type of high quality operator who will be key to the long term survival and viability of our high streets in smaller market towns in the years to come."
If you are a retailer and would like more information on premises available or if you have a Commercial unit you wish to sell or let, you can contact Henry Cockerton in Holt on 01263 711167, Nick Dunn in Norwich on 01603 629871 or Paul White in Retford on 01777 712942, Tim Humphrey,  Banbury on 01295 273555, Phil Cottingham, St Neots on 01480 479089, James Cameron and Will Gaunt on 01522 457172 and 01522 504322 and Alison Richardson and John Weston in King's Lynn on 01553 778060 and 01553 778061 respectively.
Keep updated
Keep up-to-date with our latest news and updates. Sign up below and we'll add you to our mailing list.